Vibrating screen bearing type and model

March.15,2021
Vibrating screen bearings are mostly used in mine vibration machinery equipment, vibrating screen machinery, and vibrating motors, and are one of the most critical components of this type of equipment. The working conditions of the bearing are very harsh, not only the environmental humidity is high, the dust particles are large, the speed is high, the temperature is high, but also there is strong vibration and shock, which causes the work load to be very large. The bearing has strong bearing capacity, good impact resistance, high reliability, good lubrication performance, and can overcome the deflection and deformation of the shaft.
Vibrating screen bearing category
Cylindrical Roller Bearings
Cylindrical roller anti-vibration and high-temperature bearings can be used for vibrating machines such as vibrating screens, vibrating mills, and vibrating rollers. This bearing not only has the advantages of large carrying capacity of double-row spherical roller bearings, but also high limit speed of cylindrical roller bearings.
Features:
①The carrying capacity for dynamic and static loads is 21% higher than that of ordinary bearings, and the service life is increased by 90%;
②The limit speed is 88% higher than that of ordinary bearings;
③The friction torque in the entire speed range is very small, 25% smaller than that of ordinary bearings;
④ The running noise is low, because the rolling elements are statically optimized;
⑤Using integral cage, high reliability;
⑥ Allowable axial load carrying capacity is high;
⑦Good thermal stability, because the heat dissipation is optimized. (Within 800 degrees)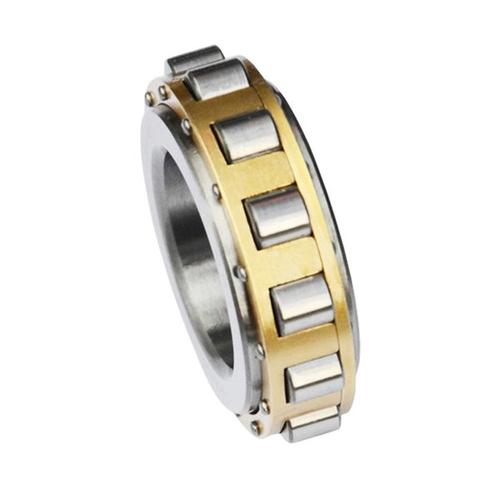 Spherical roller bearing
Spherical roller bearings are bearings with drum-shaped rollers assembled between the inner ring and the outer ring. Divided into: cylindrical inner hole, conical inner hole.
Spherical roller bearings have two rows of rollers, which mainly bear radial loads, but can also bear axial loads in any direction. With high radial load capacity, it is especially suitable for working under heavy load or vibration load, but it cannot bear pure axial load. The outer ring raceway of this type of bearing is spherical, so its alignment performance is good, and it can compensate the concentricity error.