River sand and sediment dehydration linear vibrating screen

November.28,2022
The dehydration vibrating screen is equipped with a special spraying system, which performs multiple spraying and flushing on the incoming material to completely separate the soil from the sand particles and ensure the smoothness of the sand particles. It is suitable for the washed sand industry and has many applications.
The dehydration vibrating screen has high cleaning rate, energy saving, water saving, easy operation, high output, less failure, and more durable. It is a "good partner" for cleaning sediment and river sand.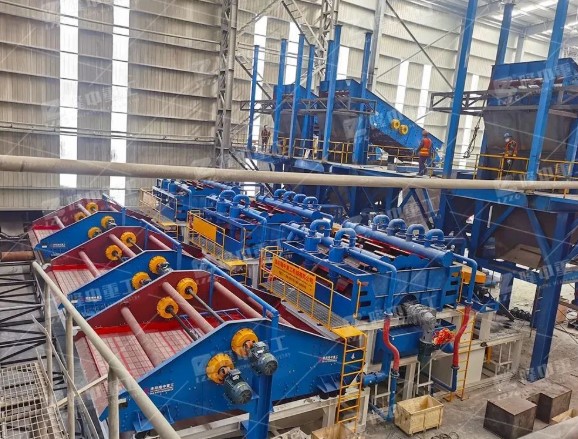 The dehydration vibrating screen has the functions of dehydration, desliming, deintermediation and recovery, and has always followed the purpose of water circulation and sand drying in the application system.
Application of dehydration vibrating screen in tailings: iron tailings, gold tailings, copper tailings, lead-zinc tailings dewatering screen, lead-zinc tailings, graphite tailings,
Application of dehydration vibrating screen in sand and gravel industry: fine sand, tailing sand, washed sand, quartz sand, zircon sand, glass sand, construction sand, foundry sand, building material sand, potassium feldspar dehydration,
Application of dehydration vibrating screen in coal industry: coal slime dehydration, coal slime, clean coal, washed coal, wet coal,
Application of dewatering vibrating screen in other industries: soil repair, sewage treatment, urban sewage, industrial sewage, river sludge, solid-liquid separation, sewage treatment plants, etc.
The dehydration vibrating screen has changed the original dehydration screening structure to integrate the body and the chassis. When the dehydration vibrating screen is installed, it can be placed on a stable foundation plane at one time, which can reduce energy consumption by 30%, increase the dehydration rate, and reduce the processing energy. It will increase rapidly by 15-20%, and it runs smoothly and reliably when working.
The dehydration vibrating screen has a high practical opening ratio and high screening efficiency. The two sides of the screen are equipped with elastic tensioning hooks, the overall weight is light, the flexibility is good, the transportation and storage are easy, and the installation and disassembly are convenient. The screen mesh of the dehydration vibrating screen can effectively absorb shock, reduce noise and improve the working environment.