Potassium feldspar beneficiation process and beneficiation equipment

October.17,2022
The raw potassium feldspar ore mined from the mine is transported to the ore dressing plant, and the storage volume of the ore on the ore floor is generally more than 5 times the daily processing capacity. The raw ore is transported to the sieve type silo by the loader. The spacing of the sieve is controlled to be less than 340mm, and the large pieces are removed through the sieve grid (the large pieces are treated separately), and the suitable bulk minerals enter the feeder. The feeder evenly feeds the material into the first jaw crusher (coarse crushing), the feed is less than 340mm, and the discharge is less than 100mm.
After crushing, the fine material is transported to the second jaw crusher by the belt conveyor, the feed is less than 100mm, and the discharge is less than 30mm. After being finely crushed, the material is transported by the belt conveyor to the third counter-attack crusher. The input material is less than 30mm, and the output material is less than 10mm, so that the particle size of the grinding ore is less than 10mm, so as to achieve the purpose of more crushing and less grinding. During the fine crushing process, some particles with high iron content will be dissociated as monomers. In order to avoid iron-containing substances from entering the later processing process, the finely crushed minerals are initially iron removed by a magnetic drum to remove the iron-rich particles and impurities. To get rid of impurities as early as possible.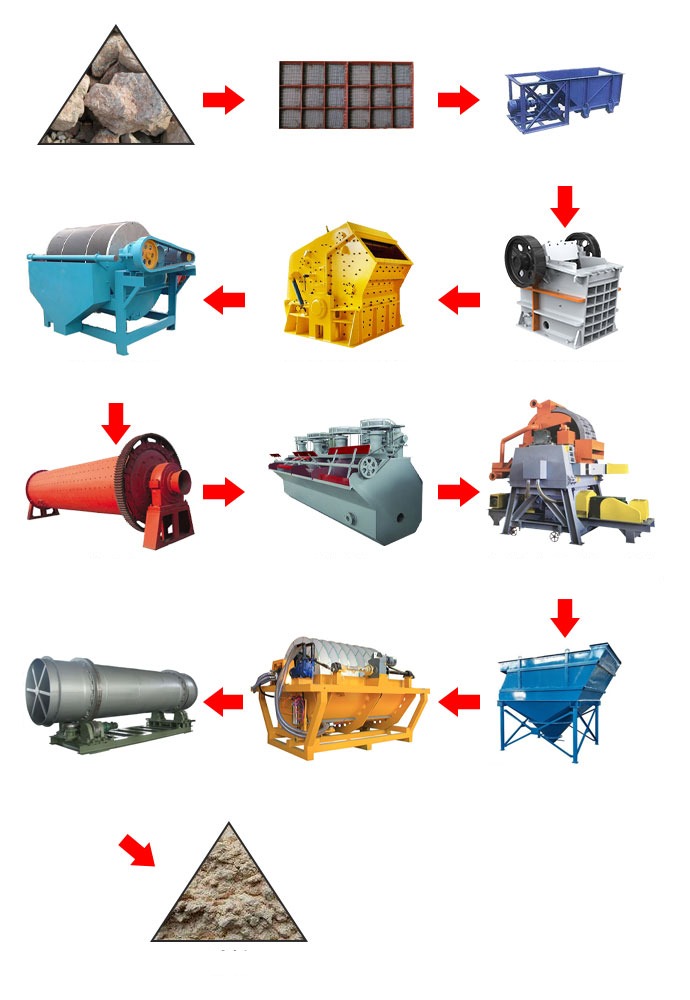 The iron-removed ore powder is transported into the silo, and an electromagnetic vibrating feeder is installed under the silo, which can adjust the feeding amount steplessly, evenly pass through the conveyor belt, and enter the ball mill. The coarse material is returned for regrinding, and the fine material overflows into the magnetic separator to remove the magnetic iron. The iron-removed ore powder enters the mixing tank to adjust the slurry concentration, and then enters the flotation machine.
After the flotation machine removes mica, silicon, calcium and other impurities in the minerals, the fine powder is pumped into the high gradient magnetic separator to remove iron, and the slurry after iron removal is pumped into the inclined tube thickener to remove a large amount of water. The underflow enters the disc vacuum filter for dehydration, so that the moisture content of the mineral powder is less than 10%, and the wet-base mineral powder is produced. If the customer needs dry powder, a dryer needs to be added.