Lithium ore purification process and equipment

November.16,2022
As the main raw material for energy development, lithium ore is widely used in batteries, electronics, chemicals, materials and other fields. Lithium ore beneficiation process.
ore crushing
Lithium ore goes through crushing and grinding process sequentially to produce uniform fine particle size. When crushing, the jaw crusher is used for coarse crushing, and then the cone crusher is used for fine crushing. For grinding, use a ball mill.
grinding
Since the proper grinding fineness is crucial to the flotation effect, the particle size of lithium ore generally needs to be ground to less than 0.15 mm to obtain better flotation effect.
purify
Use a magnetic separator to remove minerals such as iron and magnesium.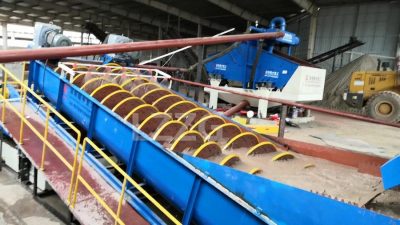 Throughout the beneficiation process, the equipment used in lithium ore processing includes:
1. Feeding equipment 2. Conveying equipment 3. Crushing equipment 4. Grinding equipment 5. Stirring equipment 6. Grading equipment 7. Selection equipment 8. Dehydration equipment 9. Drying equipment. Commonly used lithium ore beneficiation equipment mainly includes jaw crusher, cone crusher, vibrating screen, ball mill, spiral classifier, cyclone, spiral chute, SF type flotation machine, BF type flotation machine, XJK series flotation machine , Magnetic separator, central drive thickener, peripheral drive thickener, etc.