Indonesian customized 80 type trommel screen construction

September.06,2019
Trommel screen is a machine widely used in sorting technology. It controls garbage sorting by particle size and has high sorting precision. The cylinder of the trommel screen is generally divided into several sections, which may be determined according to specific conditions, and the sieve holes are arranged from small to large, and the sieve holes on each section have the same aperture.
The drum screen produced by LZZG is exported to Indonesia, Vietnam, Thailand, Malaysia, Australia and other countries, and has won the trust of local customers, creating huge economic value and low maintenance cost.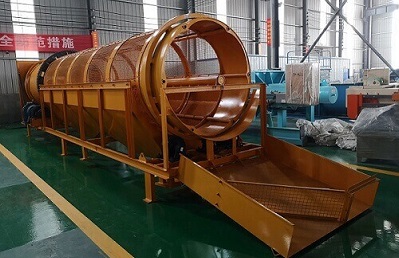 The roller unit is mounted obliquely on the frame. The motor is coupled to the drum unit via a coupling through a reducer to drive the drum unit to rotate about its axis. After the material enters the roller device, due to the tilting and rotation of the roller device, the material on the sieve surface is turned over and rolled, so that the qualified material (the product under the sieve) is discharged through the discharge port at the bottom of the rear end of the drum, and the unqualified material (screen) The upper product is discharged through the discharge opening at the end of the drum. Due to the turning and rolling of the material in the drum, the material stuck in the screen hole can be ejected to prevent the screen hole from being clogged. The principle structure of the drum sander, the drum screener and the drum screen is almost the same, and there is a difference in people's understanding and calling.
Characteristics of screen
The mesh hole is not easy to block.
The operation is stable and the noise is low.
Simple structure and convenient maintenance.
the screening cylinder can be closed, easy to close the dust collection.
The reliability of the whole machine is high, and the one-time investment is less.
the use of special mesh, high screening efficiency, long service life.
Scope of application
The stone yard is used for the classification of large and small stones and the separation of soil and stone powder.
Sand and stone separation for sand and gravel.
The coal industry is used for the separation of lump coal and coal powder and for coal washing (part of coal washing machinery).
The chemical industry and the mineral processing industry are used for classifying large and small blocks and separating powdery substances.